Cap Construction
The Evolution cap features a polyurethane perimeter, which looks very natural, maintains the cap's fit and can be worn with or without adhesive. Ergonomically-placed silicone patches within the cap interior - at the front, crown, nape and sides - ensure non-slip action without impeding scalp ventilation. A very natural and delicate Swiss lace front and Jon Renau's stretchable double-lace cap section create the impression of natural follicular growth. And like all our most luxurious styles, the Evolution Collection uses 100% Remy Human Hair.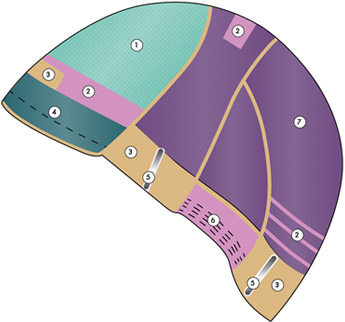 1. Double Layer Swiss Lace: Allows multi-directional parting while
providing the appearance of natural growth.
2. Silicone: Provides a "grip" to natural skin without the use of adhesive.
3. Polyurethane: For use with adhesive, if needed.
4. Single Layer Swiss Lace: Creates the appearance of a natural hairline.
5. Metal Stays: Allows smooth size customization.
6. Silicone with 4 rows running stitch: Provides extra durability.
7. Jon Renau 360 stretch: Allows customized stretch from front to
back and ear to ear.